Annual
Aster
(Callistephus chinensis)
Approx. 12,000 sd/oz. Sow sd 6-8 weeks before spring sales. Germ in 10 days at 70°F. Excellent for greenhouse cut flower/pot production. Great for borders and pots in full sun. Blooms midsummer to frost. Space 6-12" apart.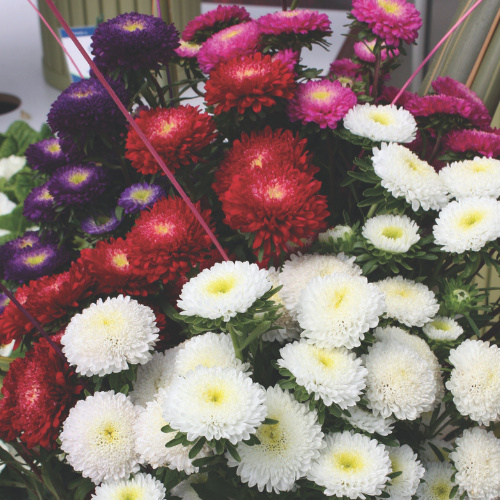 20" pot, 36" gdn;
Premium professional cutflower, also high-value item for containers.
Full double 2" pom-poms are 100% colored all over on open petals.
Vigorous habit, abundant flowers in sprays, held at just the right angle for max impact.
Resistant to Fusarium like Matsumoto.
Cutflower crop time about 15 weeks.
24-30'';
Semidouble with tight petals and golden centers.
2-4 weeks earlier blooming than comparable varieties.
Medium tall.
Branching very low to ground.
Can be raised for harvest as whole plant bouquet or at tighter spacing can be used for single-stem cuts.
Strong disease tolerance.
Blend of Blue, Pink, Rose & White.
Professional quality cutflower.
For high tunnel or field growing.
Cutflower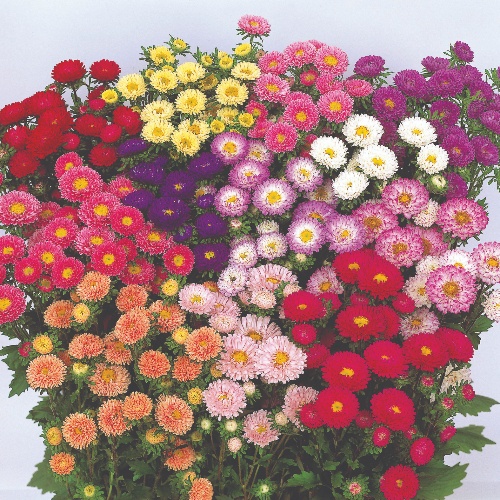 Upright flowering habit.
Medium- sized flowers with distinct yellow center.
Strong, sturdy stems with 2" blooms.
Heat and disease resistant.
Ht. 21/2'.
Cutflower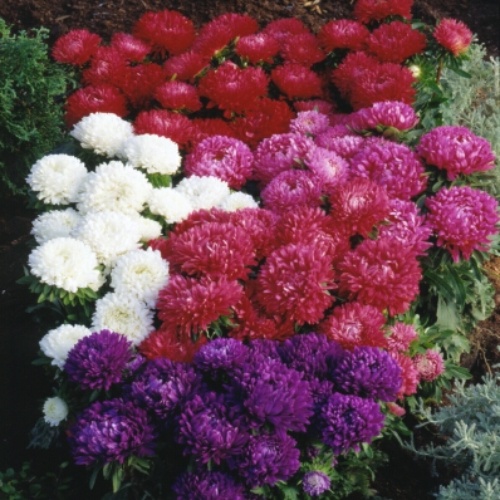 Dwarf series.
Neat mounded habit makes this one of the most durable Asters for bedding and container use.
Blooms midsummer to frost.
Ht. 12".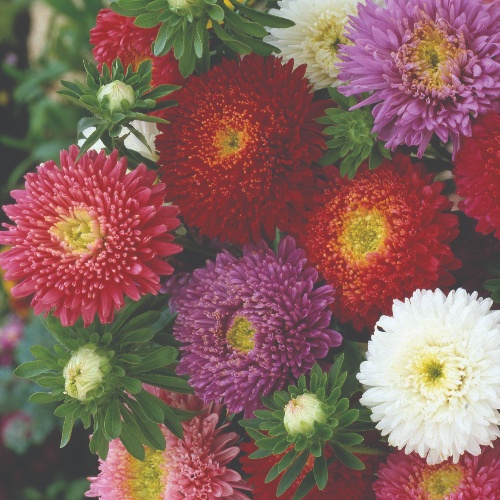 Lovely bouquet-type habit.
Profuse, 3" double flowers, good range of colors.
Wilt resistant.
Ht. 2'.
Cutflower