Crop time 3-5 months from sowing. Sow in winter for setting out after last freeze in spring. Germ at 72° F, approx. 10-
14 days. Give plenty of light after germ. Detailed culture schedule available on request.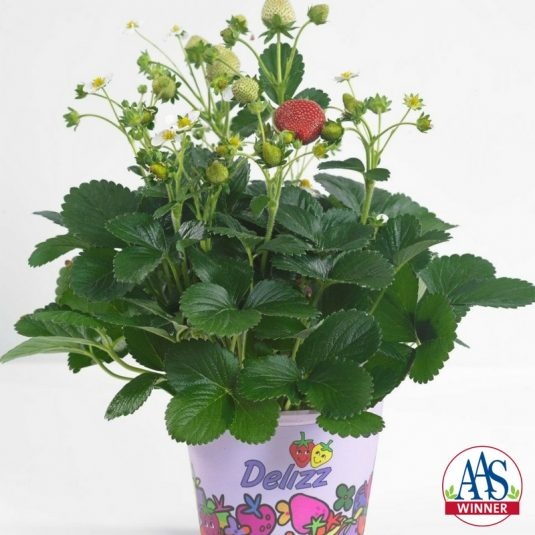 10sd
50sd
100sd
1000sd
5M
(per M)
5.85
22.15
35.35
296.40
260.00
120 days from sowing, 60 days from transplant. 4" tall at first fruit, 10" mature in gdn; Easy to sleeve and can be shipped and sold with fruit ready to pick.
Large 1.5" round oval deep red fruit is borne upright above bushy, tightly branched, deep green foliage.
Very sweet.
Day neutral for easy fruitset all summer.
AAS trials reported an avg yield of 45 fruits per plant over the season.
Upick, Fresh Mkt., Bedding Sales.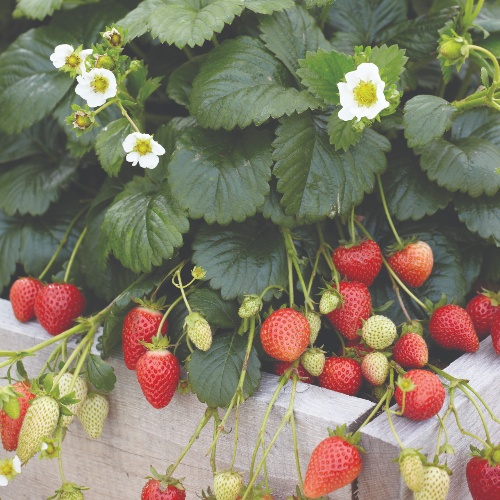 10sd
50sd
100sd
1000sd
5M
(per M)
4.30
16.25
26.00
217.75
191.00
120-150 days from sowing. 8-12" trailing; Day-neutral.
Extra sweet fruit June to October.
Shiny bright red berries, with classic bi-conical shape of commercial types.
White flowers.
Tested 30+% more Vitamin C than others.
Runners fill baskets, planters and beds.
Upick, Fresh Mkt, Bedding Sales