Carrots
Approx. 23,000 sd/oz. Pkt plants 30 ft. of row; 1/2 oz sows 100 ft. Direct-sow 2-4 lbs/acre. Sow seeds 1/2" deep, 1-3" apart in rows 16-30" apart. Seeds germinate in about 8 days. Days to maturity are from sowing.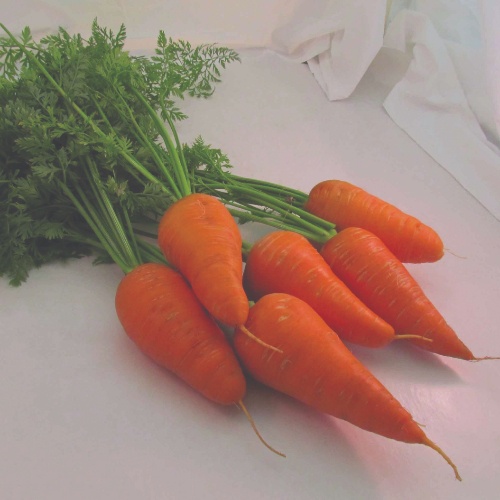 75 days.
Heavier yield than Danvers.
Smooth, orange-red roots have well colored cores, avg 6-8" (about 1" longer than Danvers).
Heat-resistant tops.
Fresh Mkt, Storage.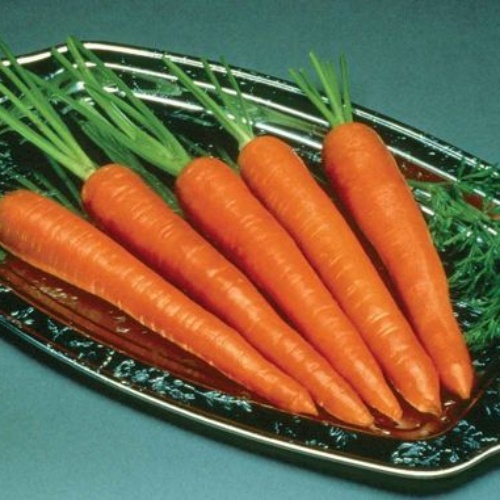 65 days.
Blunt Imperator type with smooth exterior.
8-10" x 1.5".
Mid orange with refined core.
Nice sweet flavor, avg 5% Brix, with high carotene, avg about 140 ppm.
Strong 16" dark green tops.
Exceptionally high yield potential and excellent field-holding ability.
Tolerant ALB. Bunching, Cello pack, Cut/Peel.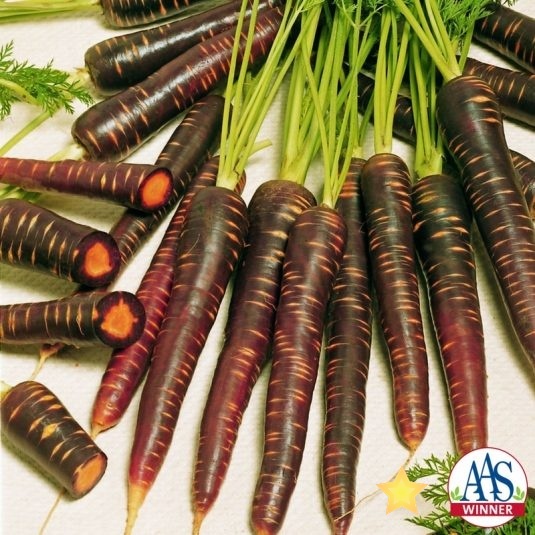 70 days.
Smooth, deep purple 10-12" roots are very sweet.
Broad shoulder tapers to a point.
Bright orange interior.
Cooking will fade the outer purple color.
Vigorous 14-16" tops.
Restaurant, Salad blends, Specialty.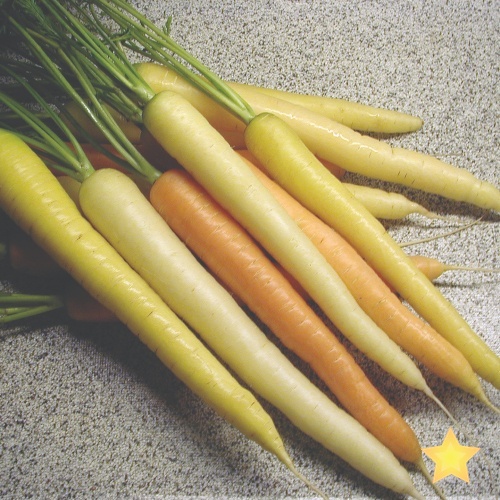 70 days.
A truly unique, single variety - not a blend of seed.
Each color offers a distinctive flavor and all have high sugar content.
Produces, long, 7-8" cylindrical roots of yellow, white, light orange, dark orange & coral. Strong 12-14" tops.
A beautiful variety that makes great product displays.
Popular with chefs and farmers' market shoppers.
Fresh Mkt, Restaurant, Specialty.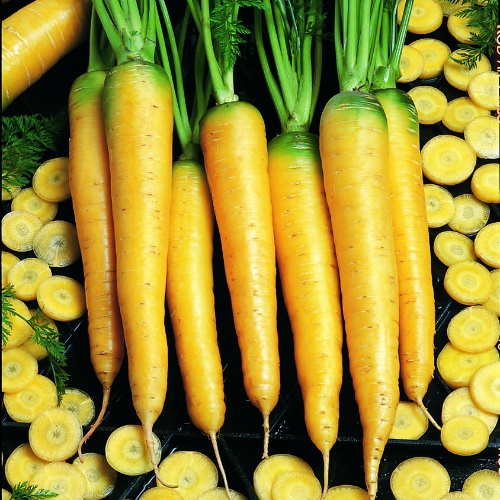 90 days.
Bright yellow eye appeal.
10½ x 1½" tapered roots, sweet and crispy.
Extra interest for salad.
Novelty color carrot market.
Restaurant, Roadside.
65 days.
Perfect for the baby carrot mkt. 3½" x ¾" cylindrical, short, smooth, blunt roots.
Interior is bright orange and coreless.
Tops are 6".
Fresh "Baby" Mkt and Home Garden.
50-68 days.
OP.
Baby nantes type.
Roots color quickly, can be pulled early at 3" x ½".
Blunt cylindrical roots, smooth skin, very small core.
Somewhat small tops.
Must be harvested early for quality baby carrots.
Baby Fresh Carrots, Canning, Pickling.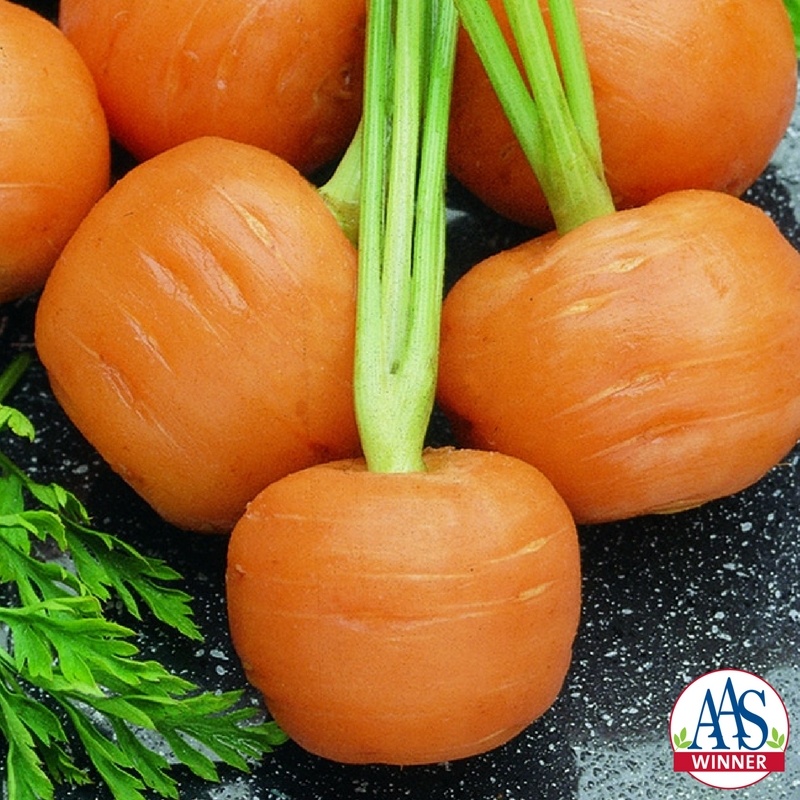 60-70 days.
OP.
Round carrot.
1" roots.
Thin skin needs no peeling.
Holds crispness and sweetness longer than other round OP carrots.
Grows well in heavy soils.
Fun for fresh snacks.
Fresh Mkt.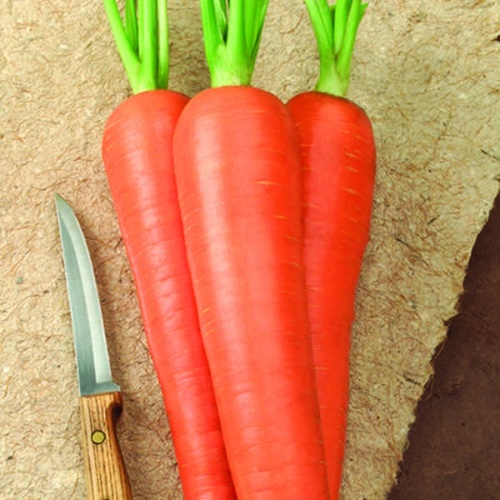 66 days.
Large, 12" x 1¾" cylindrical roots.
Sweet, smooth, uniform bright orange roots taper very slowly to blunt ends.
Fast vigorous growth, early maturity.
Top variety for production of fresh jumbo carrots.
Fresh Mkt, Garden.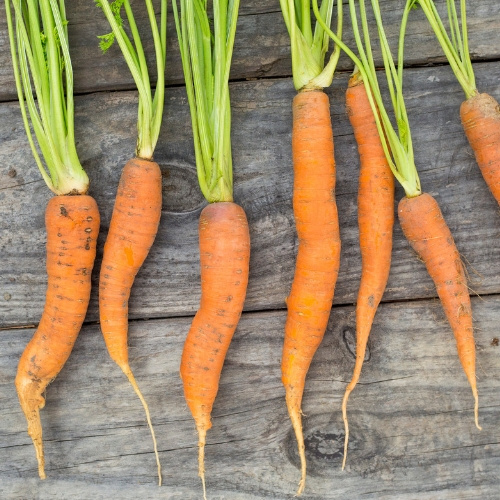 65-70 days.
Mid-Early.
High quality Nantes hybrid.
Uniform shape and size, strong tops.
Cylindrical mid-orange roots 6-9" with blunt tip and some shoulder, diam about 1½" at tip to 2½" at shoulder.
Tops are vigorous, strong stemmed, 18- 24".
Proven capable of high yields in many areas.
Fresh Mkt, Bunching, Shipping.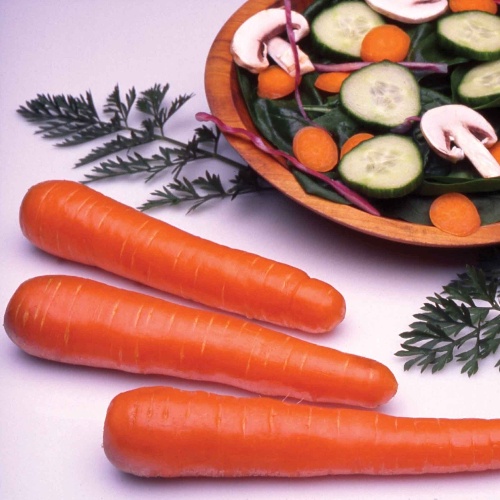 70-75 days.
8" x 1¼".
Sweet, full sugar flavor, high color, beta carotene, high yield potential, smooth roots.
Strong mid green tops, 15-18".
Fresh Mkt, Roadside, Bunching, Juicing.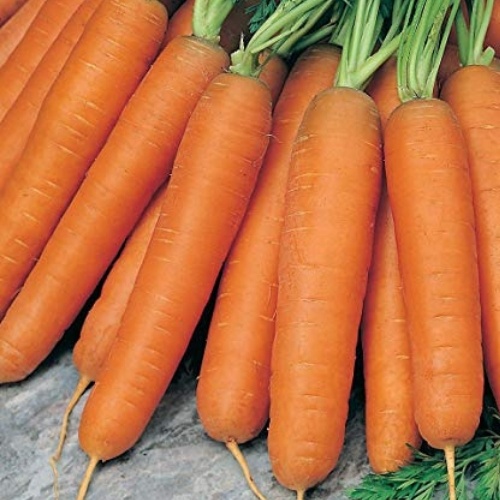 68 days.
OP.
Popular variety for early market.
Attractive, quality roots 6-7" with dependable, delicious flavor, sweet and tender.
Fresh Mkt.