Eggplant
About 6,500 sd/oz. Hybrid pkts 100 seeds; OP packets produce about 75 plants; 4 oz produces about 10,000 plants. Seeds germ in about 10 days. Set plants 18-30" apart in rows 24-48" apart. Days to maturity are from transplant.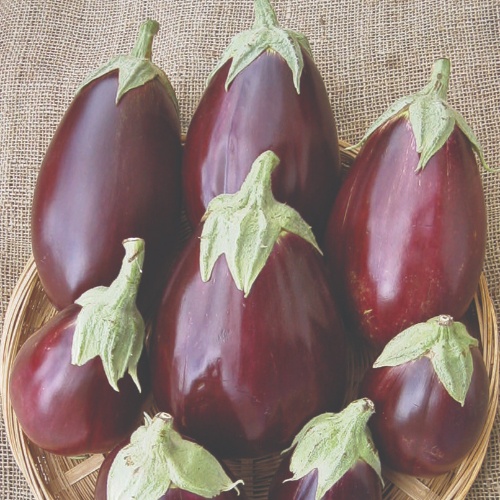 72-85 days. OP Heirloom.
Popular standard.
Large, black oval fruit, 6.5" x 5",can be picked at sizes from 1-3 lb. Bushy 2' plant spreading to 30".
Good yield in northern areas provided long frost-free season.
Fresh Mkt.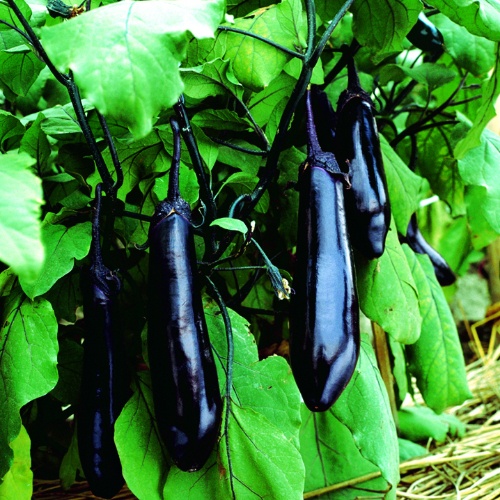 70-75 days.
Beautiful obovate bell shape, 7-8" x 4" at base, narrowing slightly to about 3" at stem end.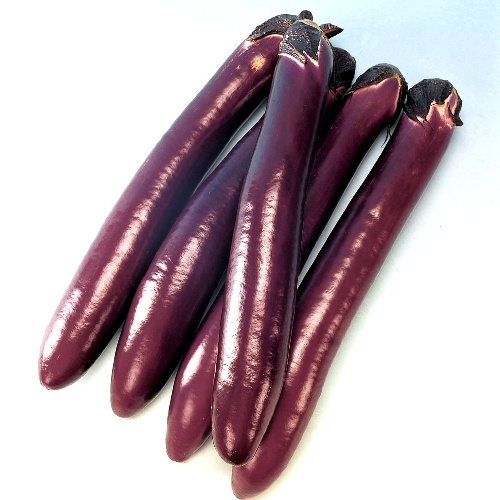 77 days.
Rich glossy purple fruit and calyx with tender white flesh.
Ten-inch cylindrical fruit averages 6 oz.
This is the popular long, thin oriental type.
Tolerance to bacterial wilt makes it suitable for southern production.
Fresh Mkt, Gdn, Roadside.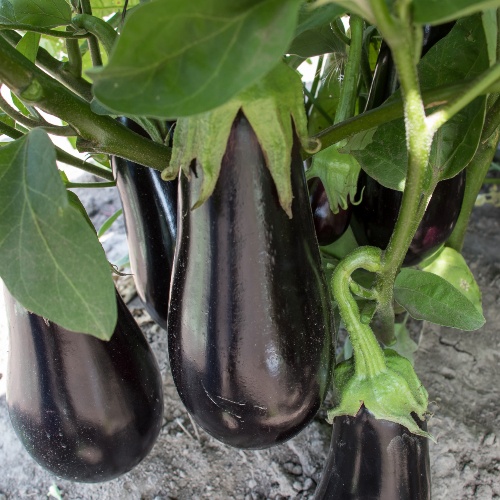 75 days. Shiny deep black fruit keeps beautiful color until the end of harvest season.
Bright green calyx is usually spineless, with a few spines under stress conditions.
Firm fleshed, 7-8" long obovate fruit are bell shaped, slightly broader at 4" base, narrowing smoothly to about 3" at stem end.
Trials indicate great potential for high yield of top grade fruits.
Excellent hot set capability.
Widely adaptable, works well in greenhouse production or in open field.
Fresh Mkt, Shipping, Garden Ctr Sales.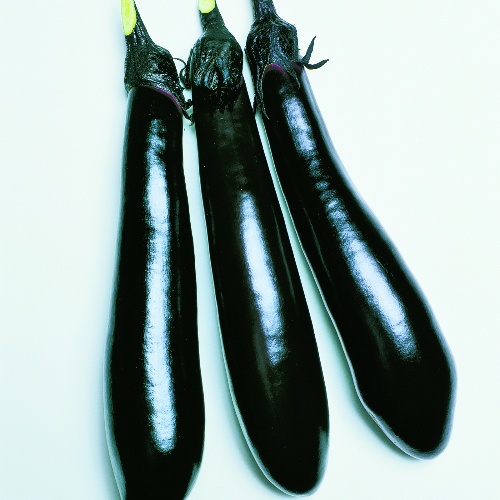 63 days.
Very early, high quality Oriental type produces very attractive, long narrow fruits with purple calyx.
Fruit color glossy black.
Upright plant 25-30".
Fresh Mkt.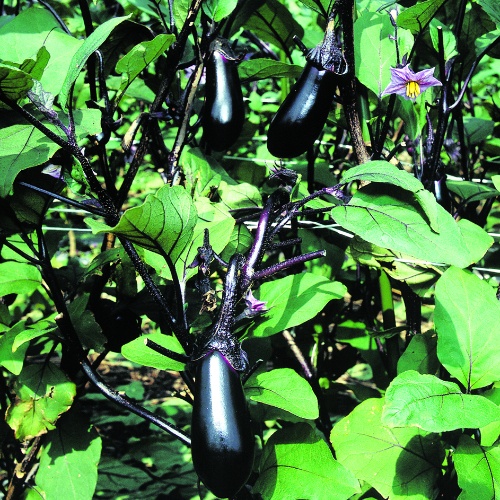 60 days.
Very early, high yielding Japanese type fruits averaging 8 oz.
Semi-upright plants produce glossy black, long oval fruits with purple calyx.
Excellent fruit taste, very tender and juicy.
Ideal for ghse and outdoor production.
Fresh Mkt, Home Gdn.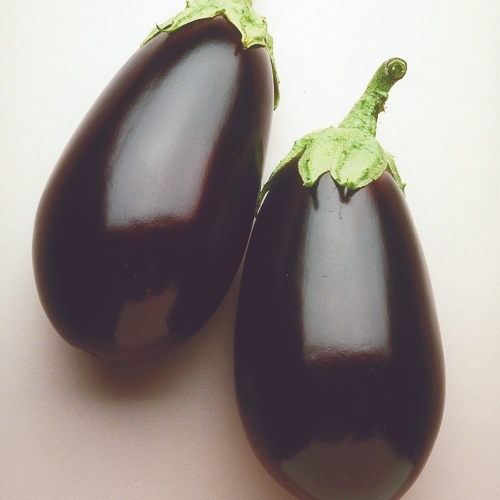 68 days.
Classic oval bell shape 7" x 4".
Vigorous strong 3' plants with potential for high yield.
Firm glossy black fruits maintain rich color through harvest season.
Best replacement for Black Bell and Black Bell II.
Fresh Mkt, Shipping.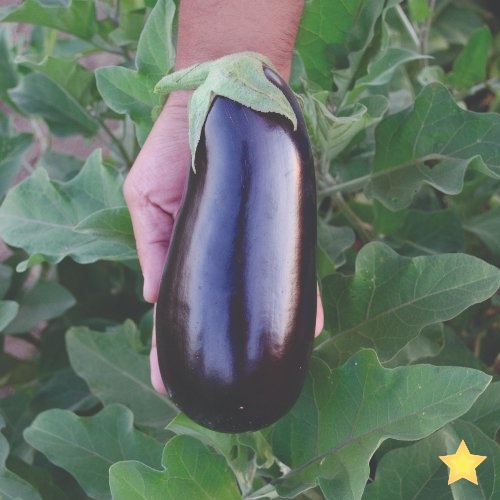 80 days.
Parthenocarpic eggplant, the first we've seen in commerce.
Able to produce fruit without pollination, and when grown in isolation from other eggplant varieties, the ovules do not develop into seed, but remain soft and light colored, enabling the production of eggplant with "seedless" flesh.
This variety should be tested for introduction of extra-high quality fruit.
Since seed are not set, fruit quality should tend to last longer on plant and in storage, and the flesh would resist developing the bitterness associated with maturing seed.
Fruit are oblong, avg, 8" x 4", with deep black-purple skin and green calyx.
Flesh is firm, sweet and capable of very high quality.
Fresh Mkt, Restaurant, Shipping.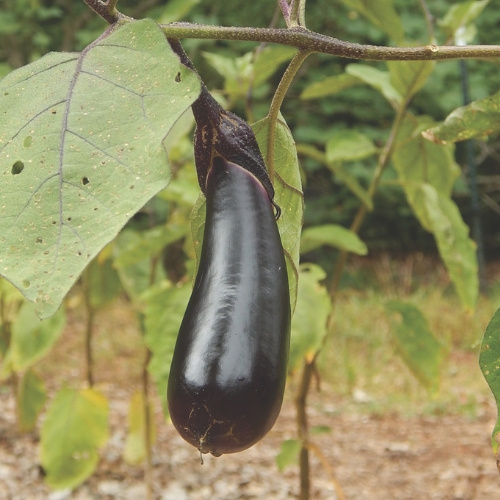 70-80 days.
Very classy Japanese long type with good eating qualities.
Dark glossy 6-8" x 1-1.5" fruit with purple calyx, thin tender skin, clean white flesh.
Seed set is slow and sparse for nice eating quality.
Handsome mid-sized plants are semi-spineless for easy harvest.
Showed good quantity of fruit set in test.
72 days.
Shiny ivory fruits with mild snow white flesh and bright green calyx.
Cylindrical fruits average 6" x 2.5" at picking stage.
Plant has very few spines so fruit is easily picked without marring.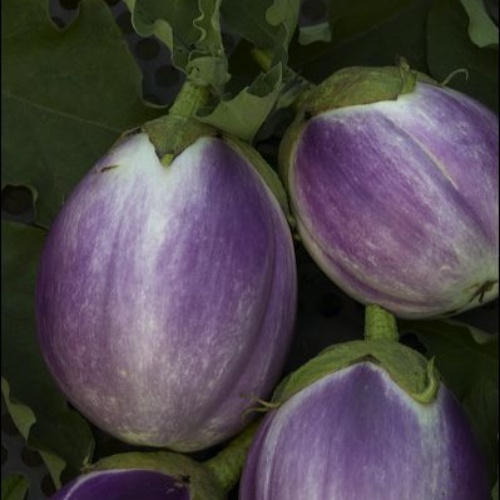 75-85 days.
Gorgeous Italian heirloom.
Produces medium-sized 5-8", roundishshaped fruits.
Unique, striped coloring of stunning, light pinkish-violet with occasional creamy white shading.
Prized by gourmet chefs for its incredible delicate, non-bitter flavors.
Plants are 30" tall.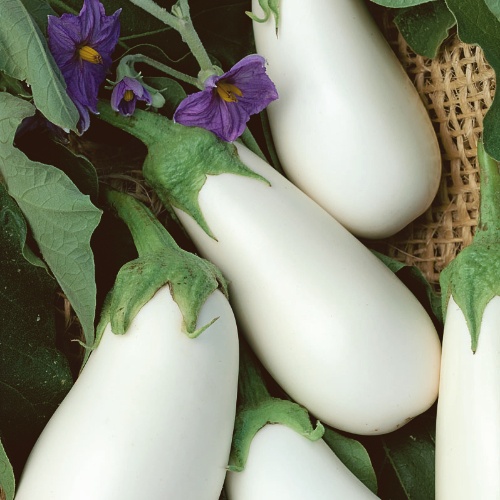 55 days.
Classic, tapered teardrop shape. Creamy white, 5-7" fruits are smooth when mature with 2" at top and 3.5-4" at bottom.
Plant provides good coverage at 30-36".
High yield potential.