Rutabaga
(Brassica napus, Napobrassica Group)
Approx. 12,000 sd/oz. Pkt plants 25-30' of row; 1/4 oz sows 100' Direct sow 1-2 lbs/acre. Sow sd 1/4-1/2" deep, 2-6" apart in rows 12-26" apart. Germs in about 9 days. Days to maturity are from sowing.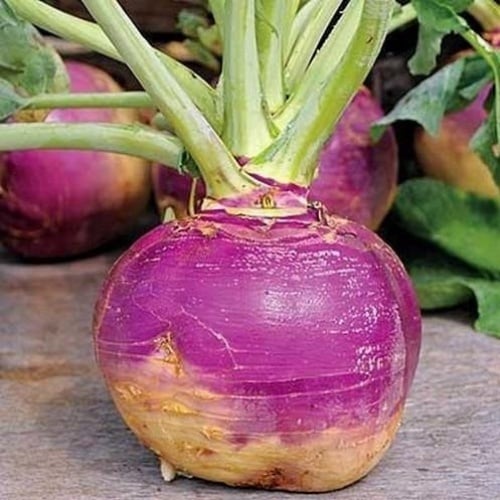 1/8oz
1oz
1/4lb
1/2lb
1lb
5lb
(per lb)
10lb
(per lb)
25lb
(per lb)
1.55
2.40
3.55
5.30
7.95
5.55
3.75
3.25
90 days.
High quality, selected strain.
Large, round roots are deep purplish red above, yellow below; small tap root.
Fine grained flesh is firm, crisp, mild and sweet.
Small tops, short necks.